Jul
17
It's a competitive world out there. Simplicity is inevitable, just a question of what's going to deliver the simple solution first.
NOTE: This blog is written by a Chef loyalist and is not to be taken as anti-Chef in any respect. There is already solid traction to remedy much of what is written below, so hopefully this blog will become very dated, very quickly! July 25th, 2014. Read more »
Jun
30
If you only came here for the links:
This was a presentation made to the Austin Java User's Group in Austin, TX June 24th, 2014
Why You Do Care If Hadoop Is Too Mysterious
Developers care when there is a useful technology that won't get used because it seems too hard. Especially when it isn't that hard. Awkward as hell, maybe. But hard? Maybe not. Read more »
Jul
20
Here's my schedule for this weekend:
It's going to be a great conference, but that's always the case ... I'll be attending the sessions highlighted in yellow.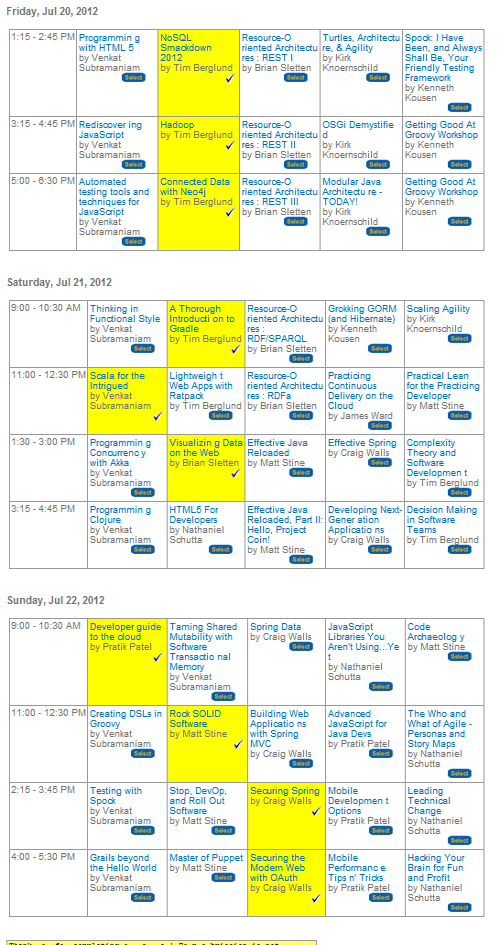 Tags:
Nov
9
[this review was written for my buddy John, a BigData speed enthusiast who couldn't make the Aparapi presentation]
Summary:
Your graphics card might have 1200, even 3600 processors. (SIMD). Using a JNI layer to OpenCL and lots of nasty boilerplate, or alternately using APARAPI and straight java, you may be able to speed up high compute low data operations by sending to these SIMD processors. The gains might be insanely disproportionate to the effort required to do this. Read more »
Oct
24
Team $$$ Efficiency Through Modularity
Any veteran developer knows that integration and maintenence is where all the time and money goes, writing a simple module can be a few days work once the requirements, interfaces, and dependencies are set in stone. Modularity (OSGi) promises to eliminate much of that cost, by never fully integrating a module into the rest of the code base. Every module stands on it's own, lives in it's own classpath, and develops in it's own tested, versioned process. Read more »
Oct
14
If you're looking for an easy, fun, and intellectually challenging way to succeed as a developer - look no further than your local user's group.
Here's My Easy Success Story:
Started going somewhat religiously, 11 years ago.
Attended hundreds of cutting edge technology presentations.
Started and led a few smaller special interest groups.
Made a few presentations myself over the years.
Served in various leadership roles at request of others.
As a result of the above, I've stayed gainfully employed even through 2 tough recessions, made tremendously beneficial contacts that will always keep me working as long as I am physically and mentally able.
If you knew me personally, you wouldn't attribute any success to my social skills. This is a case of just showing up, being a nerd, and stumbling through good fortune.
Don McGreal from last night's meeting:
Example: SOLID Presentation
Last night we had a presentation on SOLID, by one of the Read more »
Oct
7
One thing you can always count on is m2eclipse. In 2 years of using this tool, I've never been anything other than ecstatic. Great stuff.
3 Hours Gone: Poof!
3 hours is the same value to me as a serious wad of cash, and I hope that's true for you too. Time is all we have! Read more »
Oct
2
Martin Lippert's recently announced move to SpringSource is one of the most exciting events to happen in software so far this fall.
Speculation - Good Things that May Now Happen:
Fills gaps in OSGi and STS development at SpringSource
Many half finished pieces have prospect of now being glued together in a nice fit.
Critical last mile issues such as training and taking OSGi to the market, are now within reach.
Sep
28
When I'm doing my job, I'm getting things done.
When OSGi (or modularity in general) is doing it's job, it is preventing things from getting done. That's the job of OSGi, to prevent things from working except within very narrow contractual relationships.
Which is why OSGi deserves a slow and painful death. OK OK OK, that's only the way I feel when I get in these week long moods that stem from my inability to get all the metadata right, and I can't get my "modules" to run perfectly. Read more »
Tags:
Sep
27
The good news from JavaOne
Netbeans taking a higher level of importance
Swing and JFx getting a long overdue revisit
The competitiveness of the JDK being taken more seriously
this is all very good news from where I sit.
Take a look at Amy Fowler's current blog (long time Java Swng and JFx lead) and you'll see some of why it seems to mean so much that this stuff is getting such a serious look.
Warms My Heart?
You can't have a "Warms My Heart" kind of event unless Read more »