Mar
20
Setting aside my natural state as the reclusive nerd-type I flew in to Silicon Valley this week for my first EclipseCon. Lots of new experiences to take in, new aquaintances, and a first convention representing my new employer, Genuitec.

San Jose doesn't look so different flying in than any other place, driving in is where you start to figure out how this ended up being prime real estate. Pretty place, and then driving to the hotel it's just the buildings you would expect, Yahoo, Yahoo, Yahoo, Sun, Cisco, Cisco, Cisco, more Cisco, Webex, Citrix, etc. Yup, this is Silicon Valley.

Bottom line it's a gorgeous place. You drive down the main drags and this is what they look like. Nope, this view isn't from some rich residential neighborhood, this is up and down a main commercial street. So maybe this is why a one bedroom townhouse runs you $350k. It's pretty, regardless.

This was the Genuitec team here at EclipseCon 2008.
Left to right Tim Webb, Pete Carapetyan, Riyad Kalla, Allison Roberts, Todd Williams, Jens Eckels.
---
We had this little issue. Pulse wasn't perfectly ready for her maiden 2.0 preview release. Not a problem, "The team that never sleeps" was on the job, debugging their way through each minor issue. Jens was also there to make sure their glasses stayed full of beer.
The photo below was from their first night there - debugging in the bar. Tuesday they just said to heck with it and coded from the hotel room until it was ready for launch on Tuesday night. "Hello, room service?"
These guys are heros. We make light of it course, but Tim had a full head of hair before this project started, now look at him.
---
We had two booths, the MyEclipse booth and the Pulse booth. The biggest attraction wasn't our product, though, it was our bobble heads and the monopoly game.

The bobble-heads all Eclipse foundation were big hits. From left to right ( or learn more about them here ).
Lynn Gayowski Marketing Events Manager
Ian Skerrett Director, Marketing
Donald Smith Director, Ecosystem Development
Mike Milinkovich Executive Director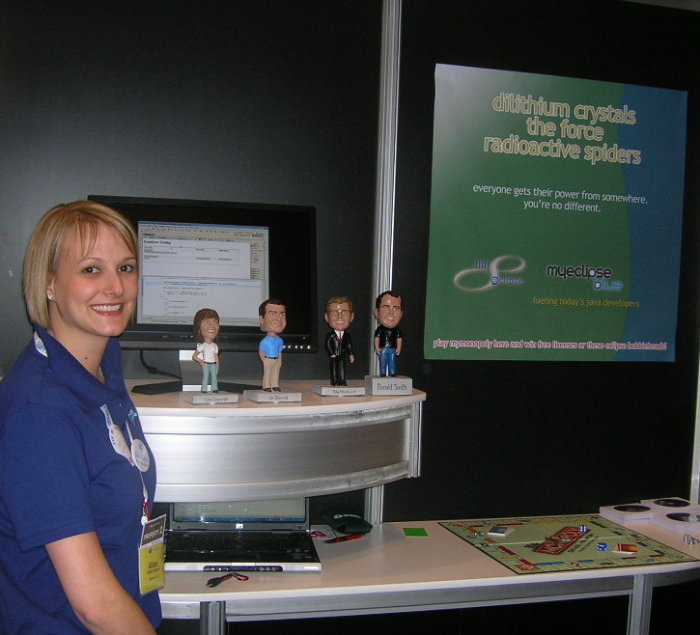 Riyad looks serious in a photo. I don't know how that happens :) I know this guy, he's not serious like that!
He was very handy to have at the booth after having spent days and nights testing Pulse first hand for the team.
---
This was Mike Milinkovich, Executive Director of the Eclipse Foundation, posing for a photo with his bobble heads, of course. I'm not certain that he didn't grow more affectionate towards the Genuitec team over the course of the convention. Those bobble heads will affect you that way.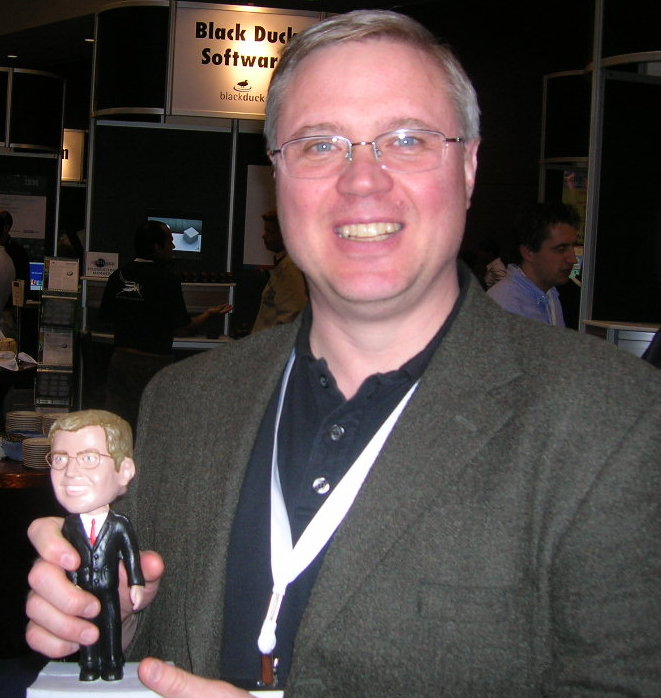 The cool thing about the monopoly game was giving out prizes. Some people won licenses. Here is Allison, handing them out.
We tried to give our bobble-heads off as a prize at our BOF but no one showed up to claim them!
Allison, posing below as our own Vanna, kicked some serious butt for us on the Genuitec booth. She would reel them in with her Monopoly skills, I'd lead them through the MyEclipse story. We had 'em.
OK this is where it gets serious. Everyone got a Monopoly card with their registration, so people were literally going around the exposition finding people with matching cards so they could get free MyEclipse licenses! No kidding, we gave out tons of those licenses, our revenues will probably take a big hit this year as a result!
In the photos below, Howard at right (actually a journalist!) went to all the work of finding and dragging back two hapless attendees to share in his spoils. They were so happy!
Allison played it all perfectly, of course. Such a deal.
---
I know what you're thinking: "Pete, your a useless waif, obviously living off the bounty that others have created!" It's an easy conclusion to come to, I just stand there and the marketing types bring them to me. But it's really not my fault, the marketing team really is pretty close to genius here.
You probably wonder what kind of person would make up such a brilliant team. None other than Jens and Allison, pictured below. That goofing around part, that's just the creativity bubbling through.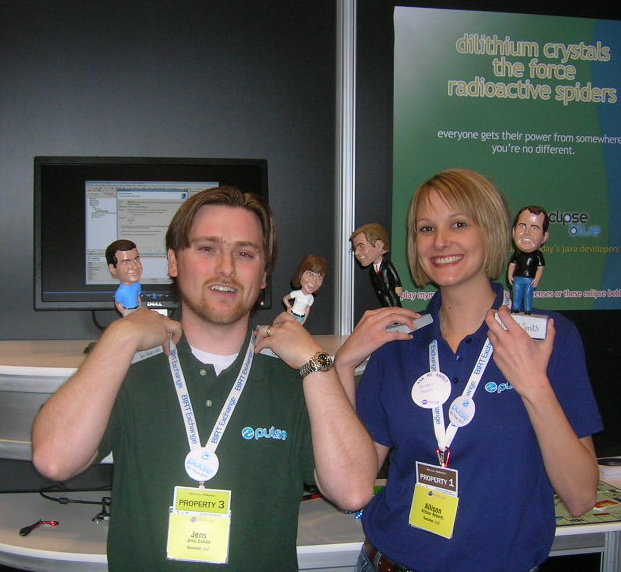 Ever humble, neither of them would claim to know how they acheived such notable results: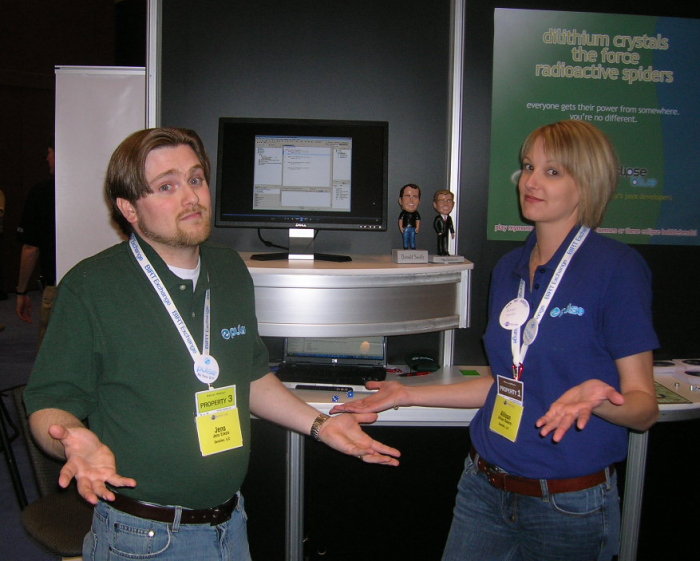 Pictured below, it's almost as if Jens "the lips" Eckels is blowing one of our recipients a kiss. Not so at all! He was just describing how close he came to coming up with the perfect marketing plan - the love is just a natural bi-product.
The fellow in the orange was whistling a song, it inspired him so deeply. The guy in black was trying to turn his recorder on, in time to catch it all on audio.
I am putting this in a java keyword because of the eclipseCon, hope it's not too light as fare.
Tags: