May
13
JavaMUG, our local Dallas area user's group (Java Metroplex User's Group) moved our meeting locations to Cisco this month. With Oracle's purchase of Sun, we had lost our last meeting space that we had for the last 5 or so years. Many thanks to Cisco for pitching in and offering us the fantastic space.
As usual, our invitation to Cisco's facilities arrived on a google map. A big complex, like other Cisco facilities around the world.
We knew we were walking up to the right building though, because the pizza delivery truck was parked outside. Photos below show what you would miss, if you were a local who had somehow not heard about our group.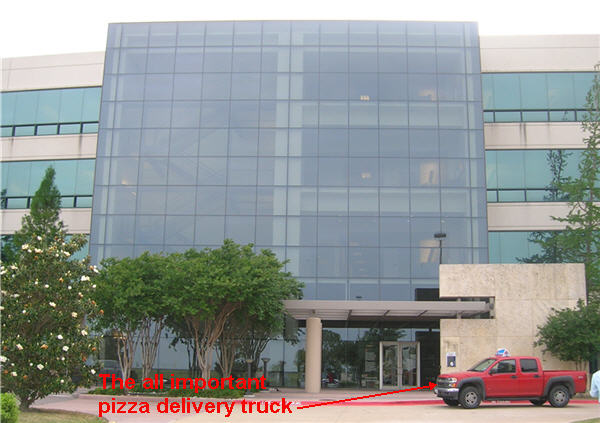 Don't even bother getting a seat when you walk in, it's straight to the pizza line.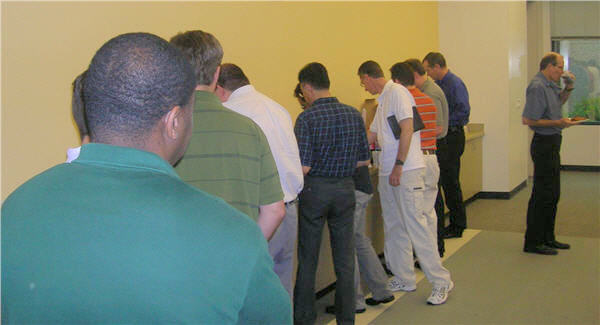 We usually have around 50 people, as many as double that or more when we get a really hot speaker or topic. Tonight was just so-so in attendance. No one has ever tried to figure out how big a part the pizza plays, but our monthly bill is around $300. Don't worry, we get the meeting sponsor to pick up the tab.
Erik Weibust, our illustrious President, announces the beginning of the meeting and lets all the other user's groups make their announcements.
Since we are one of the biggest user's groups in town, several others usually make their monthly announcements at ours, to get the best attendance for their groups.

At various times in our history, we have had as many as 8 or more user's groups make their announcements at ours, including

Spring user's group
SOA user's group
Groovy Grails user's group
JEE user's group
Unix user's group
Patterns user's group
you get the idea...
Also at the beginning of the meeting, we give the meeting sponsor a few minutes to make his pitch. They paid for the pizza and the prizes, so after all, that's why they sponsored the meeting. Usually it's one of the many recruiting firms that work in the area, but sometimes, like this one, it's a technology firm. Tonight it's Terracotta, who also provided the speaker.
This facility is a little bit better for us than our last one, in that we have a bit more space, and also a couple hundred feet of white boards, not that they would get used that often.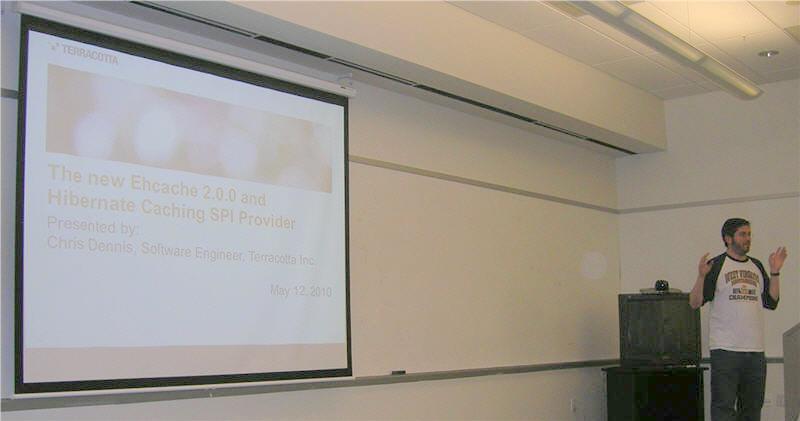 As usual, there are always give-aways at the end of our meeting. Business cards go into a bucket, and get pulled at the end of the meeting for prizes. Usually it's several software licenses, or books, or sometimes gift certificates at computer stores. This time I think the big ones were JavaONE passes. Not sure.
JavaMUG has been going strong for almost 15 years. One year Sun did a survey and rated us number 3 in the world, but that was almost 10 years ago. We haven't dropped in attendance since then, but perhaps others have increased? Who knows.